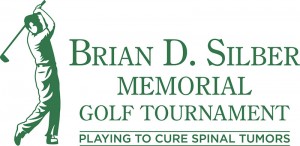 Each year in July, the Brian D. Silber Memorial Golf Tournament is held in Brian's hometown of Peabody, Massachusetts. The first Golf Tournament was held in 1998. Friends, family, physicians, and corporate sponsors join us each year to celebrate Brian's life and raise money to benefit Brian's Fund.
Funds raised support the Brian D. Silber Spine Tumor Clinic at Massachusetts General Hospital. Brian's Tournament is the longest running golf tournament to support MGH.
2018 Golf Tournament
The 2018 golf tournament was a day of wonderful camaraderie, sunny skies, and much generosity. We raised over $100,000 thanks to the commitment of our many supporters!
Photos from golf and dinner!
(Special thanks to Camille Tache, Seanna McGraw, and Alice Wang for photography.)
At the dinner reception, we showed this 3-minute video by Dr. Arnab Chakravarti, the first MGH researcher to receive a grant from Brian's Fund to support spinal cord tumor research. The video shows the impact of our seed money on his research and career.